Lighting up your autumn - introducing Nokia Mural
with AT&T
September 2, 2009 - NokiaPressServices,
Nokia announced Nokia Mural
, an affordable device as rich in features as it is in color. The perfect companion for AT&T customers who have a flare for expression and lengthy conversations, this fold device comes in multiple cover illumination colors in your choice. Optimized with fast 3G and HSDPA connectivity on the nation's fastest 3G network, Nokia Mural
can handle your fast-paced communication needs.
Available at AT&T retail stores and online at
www.wireless.att.com
from September 6, Nokia Mural comes with an economically friendly price of USD 49.99 with a two-year AT&T service agreement after USD 50 mail in rebate ("MIR").
Suitable for social networking, the device's HSDPA 3G connectivity enables fast downloads and multimedia messaging, and with built-in IM, email and a large keypad, staying in touch with friends is easier than ever. With a 2.2'' QVGA screen, a 2-megapixel camera and up to 16 GB of expandable memory, Nokia Mural has the capacity for storing even the heftiest entertainment loads for your leisure time. Sleek external music keys mean you don't need to open the device to enjoy your tunes. And with up to four hours of talk time on 3G, it supports the liveliest of communications.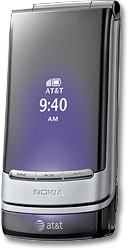 The elegant curves of Nokia Mural make for a truly ergonomic design that's smooth and curved to fit comfortably in your hand. An array of illuminating cover colors - in choices of blue, red, green, orange, purple and pink - light up when the device is opened or closed or when you receive a call, a text or other notification on the device. A consumer can choose between the color options for an added element of personalization, with the freedom to change the color selection according to your mood.
Packed with a host of popular AT&T services like AT&T Mobile Music, AT&T Navigator and AT&T Video Share, Nokia Mural is that perfect addition to your life on the move.
http://pressbulletinboard.nokia.com/...4%A2-with-att/
http://www.ubergizmo.com/15/archives...a.html?src=rss
http://www.boygeniusreport.com/2009/...unced-for-att/
http://news.cnet.com/8301-17938_105-...eed&subj=Crave