We (HoFo and myself) are not responsible for any damage, hurt, or broken phone.
If you choose to follow this tutorial, is at your own risk. So be careful what you do.
People is always asking how to modd their phones. Improve sound and/or camera, better menus, sounds etc. There are pages specialized in this stuff, but most of them are filled with information and you get lost easily.
I will try to help doing this mini-tuto. We will use a software called "Far Manager ver. 1.07"
Far Manager has a DOS-like GUI, so it's very familiar to most of us.
FM has two windows. Left for mobile files, Right for PC files. You select PC files and copy them to mobile. Pretty simple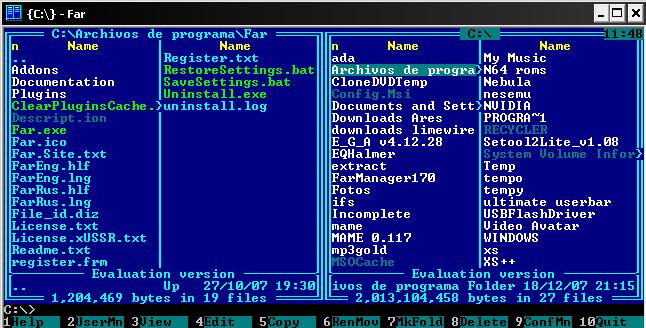 Let's start:
-Do a full battery charge.
-Do your files and/or contacts backup.
-Removing SIM and/or memory stick is not necessary, but it you want to feel safe, do it.
1. You need to install USB flash drivers. There are two ways:
First, go to sonyericsson homepage, then Support/Update service and download its software (SEUS). Once installed, you will have USB flash drivers.
Second, follow this from The Griffin tutorial
http://www.howardforums.com/showthread.php?t=1267845
:
Go into the directory in which you extract the file "setool2lite", and go into the "drivers" folder, there you will find another folder called "usb_flash_driver". Go into that and launch the installer that is contained in it, proceed as you read, nothing major will happen this is just a SE USB Flash driver for your phone.
Once the installation is done proceed to the next step
Go back to the directory in which you extracted "setool2lite" and launch the application "setool2lt.exe"
2. Now we will need to know what CID and DB is our phone. With SETool opened, select your model, then click on "Identify". It will ask to connect the phone while pressing "C" button.
Turn off your phone, remove battery for two seconds, put it again, connect your USB cable to PC, then to your phone while pressing "C" button.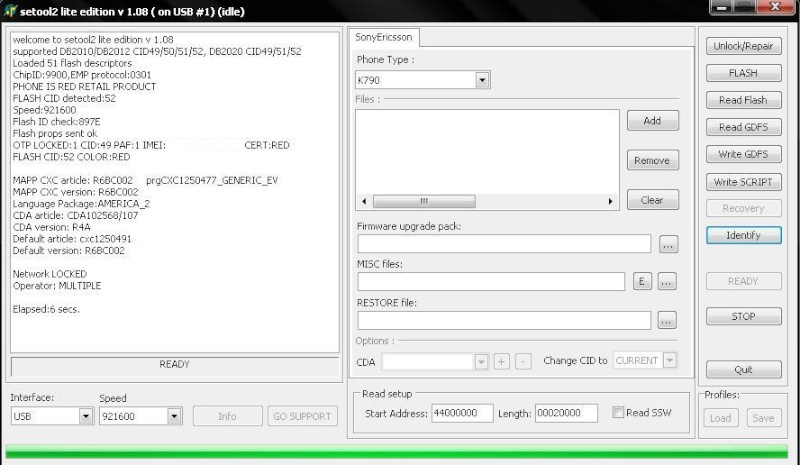 Check the line: FLASH CID detected:
That's your CID.
To know DB, check the next list:
Code:

DB1000: T610, T630, T300, T310, T306, T316, P800, P900, P910
DB2000 [Marita full]: K608, K600, M600, P990, V600, V800, W900 W950, Z800, Z1010
DB2010* [Marita compact]: D750, J300, K300, K310, K500, K510, K700, K750, S700, W300, W550, W600, W700, W800, W810, Z520, Z525, Z530, Z550
DB2011: K300
DB2012: K320, W200, W300, Z550, W810, K310, K510
DB2020: K610, K790, K800, V630, W830, W850, W710, W880, Z610, Z710, K810
PNX5230: Z310
DB3150: K850, Z750, W910, W960
We will work with DB2020 phones. You will notice these are the kinda new ones.
(Note: PNX5230 and DB3150 are not customizable at this time with any method)
3. Open Far Manager. You will see the first image in this post. Do Alt+F1 and a new menu will appear. If your phone is DB2020, select SEFP.
Another menu will appear. Select DCU-60, 921600 and your phone CID as it shows. In this case, as my K790 is CID52, I selected db2020 cid52.
4. Click "Enter the Matrix". It will ask you to connect it while pressing "C" button, like SETool lite. Do it. Do not forget to remove battery and reinsert it before doing this.
5. After this, you will see next screen, so you're ready to get into your phone system. Press FS and wait.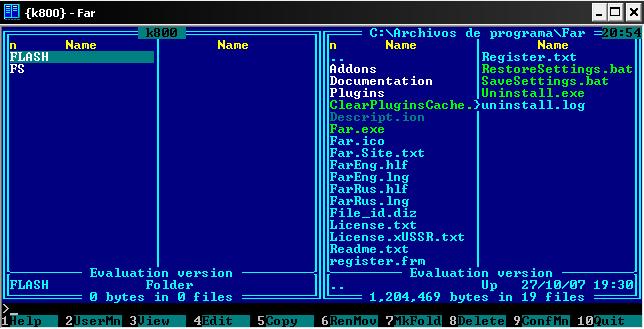 6. Next screen may take a while, so don't worry.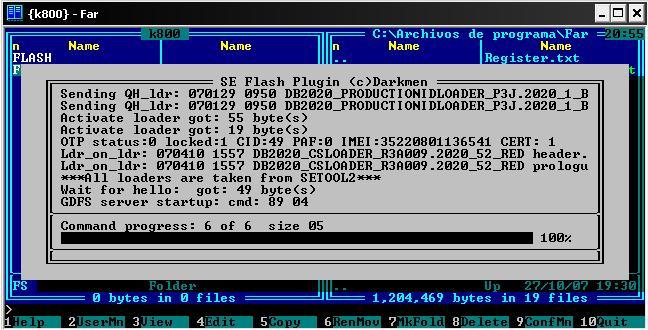 7. Now we are into system. At your right you'll see the directories. What is for each one? I post the routes where is located most stuff we use: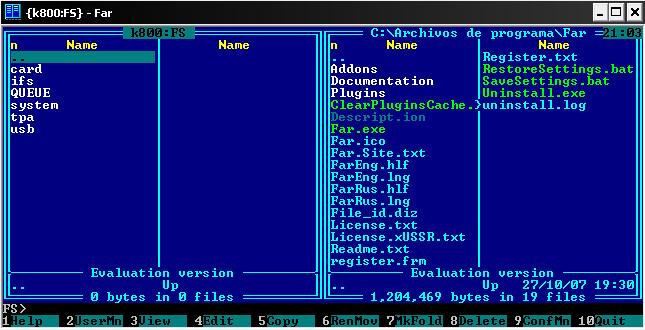 Change menu icons:
tpa/preset/system/menu
Copy the icons with their menu.ml (overwrite original menu.ml)

Change Walkman skin:
tpa/system/multimedia/mp

Change Acoustics:
ifs\settings\acoustic
Improve phone sound.

Add clipart:
tpa/preset/system/multimedia/pe/fun layer
Add some new images to your photos.

Replace Cam Drivers:
ifs\settings\camera
Improve quality of photos and/or video.

Change layout:
tpa/system/layout/
Remove operator logo, bars, change hour and date ubication.

Change SMS Sounds:
tpa\preset\system\sound
messagealert1.mp3
messagealert2.mp3
messagealert3.mp3
messagealert4.mp3
messagealert5.mp3
messagealert6.mp3
messageclick.mid

Change Shutdown Sound:
tpa\preset\system\settings
SHUTDOWN_SOUND_SEMC.mp3

Add Extra Flash Menus:
tpa\preset\system\desktop\flash

If your flash menus are blocked:
tpa/preset/custom/
Copy customize_upgrade.xml on this route.

Remove Locked Java Files:
tpa\preset\system\ams
tpa\preset\default\java

Remove Locked Music/Pictures:
tpa\user\audio
tpa\user\audio\Ringtones
tpa\user\image

Replace Audio Drivers:
ifs\settings\acoustic

Replace Cam Drivers:
ifs\settings\camera

Splash
tpa/preset/system/settings
Splash file is the one that appears right after turning on your phone (SE logo)
If you want to change it, your image must be .png and named SPLASH with no extension.

tpa/preset/system/settings/SHUTDOWN_IMAGE_SEMC
Image that appear on Shutdown. It's a GIF, so upload it but without extension and with same name as shown

tpa/preset/system/settings/STARTUP_IMAGE_SEMC
Same, but in Startup.

a) To expand SMS capacity:

1. Go to /ifs/settings/messaging/
2. Select pref_store.txt and press F4 (edit)
3. Change "/smsdata" for "/tpa"
4. Save changes
5. Exit Far pressing " .. " until "Do you wish to shutdown CSFSloader". Then click Yes
6. Remove battery, reinsert it and turn on your phone

b) Remove camera sound::
Go to tpa/preset/system/sound and delete camerashutter.3gp file
and to delete autofocus sound delete camerafocus.3gp file.


c) Chaneg default SMS sounds:
tpa/preset/system/sound
Delete files and upload the new ones in same format and name. (messagealert1,messagealert2....)

d) Delete low battery sound:
Go to tpa/preset/system/sound/lowbattery.mid y substitute the file with same name, but with no size (empty, 0 kb).

e) Change shutdown sound:
Go to tpa/preset/system/settings
Copy any mp3 as SHUTDOWN_SOUND_SEMC.mp3

f) Increase MMS size:
This size is regulated by carrier.
Edit this file: tpa/preset/custom/customize.xml
Add this on it
<mms>
<message-max-size>4000</message-max-size>
</mms>
Then copy it again in same route and do a Master Reset.

g) Change message sent sound:
Name a .mid of your choice as notification.mid and copy it to: tpa/preset/system/sound
To copy your files you must find them on right side, then select with right-click (yellow) and transfer them to left side on the ubication you choose.
You can't backup files to your PC in DB2020
, so you will need to find them while you look for modds.
There are many of them, so I won't post because everyone has their needs.
You can look in Topsony, Se-nse, Esato, Clubsonyericsson, just to name a few ones.
All of this is for DB2020 phones. If your model is another db, or if it fails to connect, choose "just da flasher" instead SEFP (right after Alt+F1). It's similar to connect, so you won't find any problems. If so, we are here to help.
Remember:
After every unplug, remove battery two seconds then reinsert it. If not, you phone won't start or won't be recognized by PC.
I don't like to provide direct links, so I will show you where are located and what files to download.
Go to 4shared.com
Install this:
keyword: Far Manager
file: Far Manager - db2020 supported.rar
With this file, open it, extract "jdflasher" folder, and copy it to Plugins folder in the first Far Manager you installed above.
keyword: JDflasher
file: far_manager_v1.7_jdflasher.rar
Any question or comment is well received.
Just read carefully first.
Good luck!