In terms of features, the C901 is very much like the C903. All the same camera features, including a 5-megapixel camera, auto focus, Smile shutter, BestPic, Smart Contrast, Face detection, PhotoFix, geo-tagging, etc. On top of that, it adds a xenon flash instead of a photoflash LED.
Other features include chat view messaging, YouTube, Fm-radio with RDS, built-in accelerometer, Bluetooth, 3D gaming, video calling, Google Maps, etc.
The battery is good for up to 9½ hours of talk or 430 hours of standby time.
The phone measures 105 x 45 x 13 millimetres and weighs 107 grams. It's a quad-band GSM / dual-band HSPA phone.
It'll be available during Q2 in three variants; Noble Black, Sincere Silver and Precious Peach.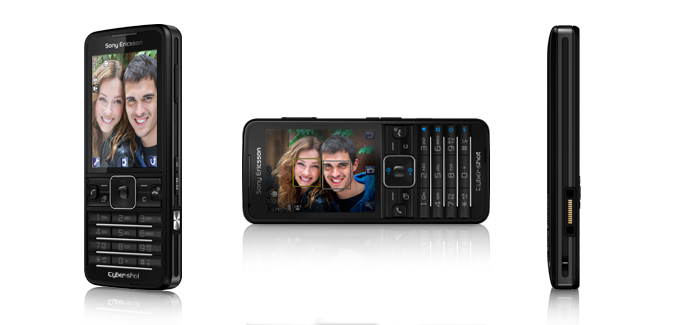 Stunning shots
The 5 megapixel camera gives you stunning shots. And when in the dark, you still get accurate colour reproduction. Just use the built-in Xenon flash.
Smiles guaranteed
Smile Shutter
is your happy-face warranty. Your C901 waits until there's a smile in your viewfinder. Then it automatically snaps the shot.
Quick camera access
Slide the active lens cover open and use the dedicated camera buttons to get perfect pictures in a flash.
Screen
- 262.144 color TFT
- 320x240 pixels
Memory
- Memory Stick Micro
(M2
) support
- Phone memory 110MB*
* Actual free memory may vary due to phone pre-configuration.
Networks
- GSM/GPRS/EDGE 850/900/1800/1900
- UMTS/HSPA 900/2100
Available colours
- Noble Black - Sincere Silver - Precious Peach
Possible limited market availability.
Sizes
- 105.0 x 45.0 x 13.0 mm
- 4.1 x 1.8 x 0.5 inches
Weight
- 107.0 gr
- 3.8 oz
Please note that local variations may apply.
Features
Camera
Photo feeds
Geo tagging
Video stabiliser
Video recording
Video light
Red-eye reduction
Video blogging
Picture blogging
Xenon flash
Smart contrast
Face detection
Photo fix
BestPic
Auto focus
Digital Zoom - up to 16x
Camera - 5 megapixel
Entertainment
Radio - FM radio with RDS
Walk Mate
Video viewing
Video streaming
Java
YouTube
Motion gaming
3D games
Media
Communication
Video calling (Main camera)
Vibrating Alert
Speakerphone
Polyphonic ringtones
Music
Music tones - MP3, AAC
TrackID
PlayNow
MegaBass
Bluetooth
stereo (A2DP)
Album art
Media Player
Connectivity
PictBridge
USB support
USB mass storage
Synchronisation
Modem
Bluetooth
technology
Google Maps
Design
Wallpaper animation
Picture wallpaper
Navigation key
Auto rotate
Internet
Web feeds
WAP 2.0 XHTML
WAP 1.2.1
Access NetFront
Web Browser
Messaging
Sound recorder
Predictive text input
Instant messaging
Picture messaging (MMS)
Text messaging (SMS)
Exchange ActiveSync
Email
Organiser
Timer
Tasks
Stopwatch
Phone book
Notes
Flight mode
Calendar
Calculator
Alarm clock