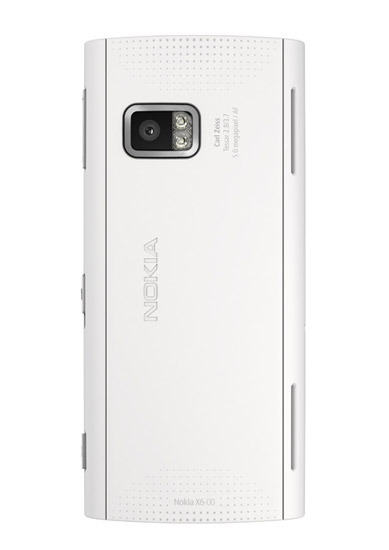 Size
Form: Classic with finger-operated touch screen user interface
Dimensions: 111.0 x 51.0 x 13.8 mm
Weight: 122 g
Display and 3D
Size: 3.2"
Resolution: 640 x 360 pixels (nHD)
Up to 16.7 million colours
Automatic orientation sensor (Accelerometer) for display rotation
16:9 widescreen aspect ratio
Keys and input method
Finger-operated touch screen for text input and user interface control (alphanumeric keypad, full and mini QWERTY keyboard, handwriting recognition, full screen handwriting for Chinese language)
Dedicated Media Bar touch key for access to music, gallery, share online, Video Centre and web browser
Voice commands
Physical keys for application launch (menu key), send and end, power, camera, lock, volume up and down
Dedicated personal Contacts Bar touch key for direct access to contacts, feeds and status updates
Colours and covers
Available in-box colours:
- White/Blue
- Black/Red
Connectors
Micro USB connector for USB 2.0 High Speed to PC
3.5 mm Nokia AV connector for audio and TV-out
Small DC jack
Memory
32 GB internal memory
Power
BL-5J 1320 mAh Li-Ion standard battery
Talk time (maximum):
- GSM 8 h 30 min
- WCDMA 6 h
Standby time (maximum):
- GSM 401 h
- WCDMA 420 h
Video playback time (maximum): H51nHD 25 fps up to 3 h 36 min
Video recording time (maximum): 3 h 30 min
Video call time (maximum): 3 h
Music playback time (maximum): 35 h
Support and related documents
Support and related documents
Related documents
SAR certification information
Eco Declaration (.pdf, 52 KB)
Declaration of Conformity
Nokia Care
Nokia Care Premium Service
Communication and navigation
Operating frequency
WCDMA 900/1900/2100, GSM/EDGE 850/900/1800/1900
GSM/EDGE 850/900/1800/1900 (Latin America and Brazil variant only)
WCDMA 900/1900/2100, GSM/EDGE 850/900/1800/1900, 2G QB (China variant)
Automatic switching between GSM bands
Flight mode
Data network
CSD
HSCSD
GPRS/EDGE class A, multislot class 11, with similtaneous voice and packet data mode support
GPRS/EDGE class B, multislot class 32
WCDMA 2100/1900 with similtaneous voice and packet data mode support
HSDPA cat 6, maximum speed 3.6 Mbps (DL)
WLAN IEEE 802.11 b/g
TCP/IP support
Local connectivity and synchronisation
Bluetooth version 2.0 with Enhanced Data Rate
MTP (Mobile Transfer Protocol) support
TV out (PAL)
Support for PC synchronisation with Nokia Ovi Suite
Call features
Integrated hands-free speakerphone
Number screening for messaging and calls
Automatic answer with headset or car kit
Any key answer
Call waiting, call hold, call divert
Call timer
Logging of dialled, received and missed calls
Automatic redial
Speed dialling
Speaker-independent name dialling (SIND)
Fixed dialling number support
Vibrating alert (internal)
Side volume keys
Mute/unmute
Contacts Bar for 20 contacts with images and comminication history (SMS, calls, instant messaging, email, web feeds)
Talking ring tones
Conference calling with up to 6 participants
Video calling: up to 176 x 144 pixels, low up to 5 fps, normal up to 10 fps, smooth up to 15 fps
Messaging
SMS with support for concatenated SMS for long messages
Multiple SMS deletion
MMS version 13, message size up to 600 kb
Automatic resizing of images for MMS
Nokia Xpress audio messaging
Common inbox for SMS and MMS messages
Number screening for messaging
Distribution lists for messaging
Instant messaging client
Cell broadcast
E-mail
Supported protocols: IMAP, POP, SMTP
Support for email attachments
OMA email notification support
Nokia Email
Mail for Exchange*
* Some services may be available only by downloading or upgrading. Only devices that offer compatible multimedia message or e-mail features can receive and display multimedia messages. Content appearance may vary. Some images and ring tones can not be forwarded.
Web browsing
Supported mark-up languages: HTML, XHTML, WML
Supported protocols: HTTP, WAP, JavaScript
TCP/IP support
OSS web browser
Nokia Mobile Search
GPS and navigation
Integrated A-GPS
Ovi Maps 3.0
Accessories
Recommended accessories
Nokia Bluetooth Stereo Headset BH-905
Nokia Bluetooth Stereo Headset BH-214
Nokia Mini Speaker MD-9
Compatible car solutions
Nokia Car Kit CK-100
Compatible accessories
Compatible accessories for the Nokia X6 32GB
Software
Software platform and user interface
S60 5th Edition
Symbian OS version 9.4
Active standby
Media Bar
Contacts Bar
Personal information management (PIM): contacts, clock, calendar etc.
Support for assigning images to contacts
Support for contact groups
Clock: analog, digital, world clock
Alarm clock
Reminders
Calculator
Calendar with week and month view
Converter
Notes
To-do list
Applications
Java
MIDP 2.0
Flash Lite 3.0
Contacts on Ovi
OSS web browser
Switch, Say and Play
Shazam
Aircasting
Pic2Themes
Nokia Music Store
Ovi Maps 3.0
Map loader
Nokia Ovi Suite
Download!
Settings Wizard
Image editor
Video editor
Nokia Video Centre
Share on Ovi
Adding more applications:
- Over-the-air (OTA) downloads
Gaming
Included games:
- Spore
- D Mix Tour
- Asphalt4
Image and sound
Photography
5.0 megapixel AF camera (2592 x 1944 pixels)
Image formats: JPEG/EXIF
Carl Zeiss optics
4x digital zoom
Autofocus
Dual LED flash
Flash modes: On, off, automatic, red-eye reduction
White balance modes: automatic, sunny, cloudy, incandescent, fluorescent
Centre weighted auto exposure; exposure compensation: +2 ~ -2EV at 0.5 step
Capture modes: still, sequence, self-timer, video
Scene modes: automatic, manual, portrait, landscape, night, night portrait
Colour tone modes: normal, sepia, black & white, vivid, negative
Dedicated camera key
Landscape (horizontal) orientation
Image editor on device
Direct printing to compatible picture printers
TV out (PAL)
Video
Main camera
- Video recording at up to 640 x 480 pixels and up to 30 fps (TV quality), up to 640 x 352 pixels and up to 30 fps (widescreen quality), up to 320 x 240 pixels and up to 30 fps/15 fps (email high/normal quality), up to 176 x 144 and up to 15 fps (sharing quality)
- Up to 4x digital video zoom
Front camera
- Video recording at up to 176 x 144 pixels, low up to 5 fps, normal up to 10 fps, smooth up to 15 fps
Video recording file formats: MP4, 3GP
Audio recording formats: WAV (normal), AMR (MMS), AAC/MP4 (high quality)
Video white balance modes: automatic, sunny, cloudy, incandescent, fluorescent
Scene modes: automatic, night
Colour tone modes: normal, sepia, black & white, vivid, negative
Clip length (maximum): 1 h 30 min (high or normal quality). Depending on available memory
RealPlayer
Video playback file formats: MPEG4-SP playback 30 fps VGA, MPEG4-AVC playback 30 fps QVGA, WMV9 playback 30 fps QVGA, MPEG4-SP playback 30 fps nHD
Video streaming: 3GPP, CIF
Landscape mode video playback
Video calling: up to 176 x 144 pixels, low up to 5 fps, normal up to 10 fps, smooth up to 15 fps
TV out (PAL)
Video editor on device
Video Centre service supported: download and stream video content, WMV support, video feeds
Music and audio playback
Nokia Nseries digital music player
- Playlists
- 8-band graphical equaliser
- Selection by artist, composers, album and genre
- Album graphics display
- Bass booster, stereo widening, loudness
Music playback file formats: mp3, SPMidi, AAC, AAC+, eAAC+, WMA
Dedicated volume keys and immediate access to the Music Player from the Media Bar
Stereo FM radio
3.5 mm Nokia AV connector
Nokia Music
Nokia Music Store support
Nokia Podcasting support
Ring tones: 3D stereo ring tones, 64-tone polyphonic, mp3 & video ring tones (3 videos and 9 mp3 songs built-in)
Integrated 3D sound effect stereo speakers (dedicated audio chip for crystal clear hi-fi sound quality)
Voice and audio recording
Voice commands
Speaker-independent name dialling (SIND)
Voice recorder
Audio recording formats: AMR, NB-AMR, FR, EFR
Digital stereo microphone
Personalisation: profiles, themes, ring tones Customisable profiles
Ring tones: 3D stereo ring tones, 64-tone polyphonic, mp3 & video ring tones
Sales package contents
Nokia X6
Nokia Battery BL-5J
Nokia High Efficiency Charger AC-8
Nokia Connectivity Cable CA-101
Nokia Stereo Headset WH-500
User Guide
Mini DVD
Comes With Music leaflet