Vertu offers £20k phone with 'beaten up' look
By James Sherwood, 10th December 2008 14:37 GMT
Mobile phones are nothing more than collections of plastic, wires and chips, aren't they? Not if you're a Nokia Vertu customer, because its latest talker is a gathering of sapphire crystal and walnut.
Vertu's Boucheron 150 phone: luxurious
The Boucheron 150 may look like it's done ten rounds with Ricky Hatton, but Vertu says the phone's "constantly changing angled surfaces" give it a cut stone appearance.
We assume it doesn't mean that the phone's surface really is constantly changing. That'd make it very hard to hold, for starters...
Meanwhile, each of the 150's gold components is crafted from individual solid gold ingots which, we're reliably informed, take over 1000 person-hours to cut to shape, another 700 to hand polish and a further 500 to hand assemble.
Unboxing this 'beauty' is sure to be fun, because the phone comes with a bespoke wooden case made from "Noce Pedullo", a special part of the walnut tree.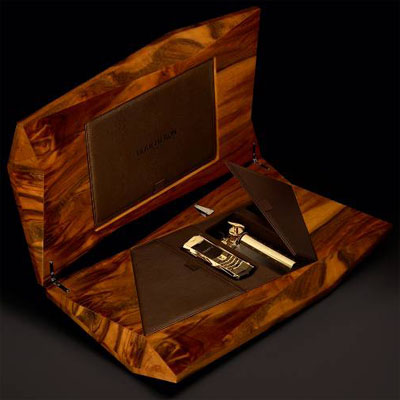 The box...
It's not just any old box though, oh no, because inside rests a custom-built brass music drum that plays the signature Vertu sandpiper ringtone when opened.
In keeping with most Vertu talkers, little has been said about the phone's specifications and it probably doesn't even have a camera. We do know that it's 3G capable though.
The price? It's said to retail for around $30,000 (£20,000/€23,000).
http://www.reghardware.co.uk/2008/12/10/latest_vertu/
cheers!