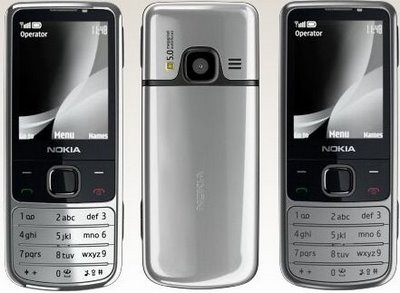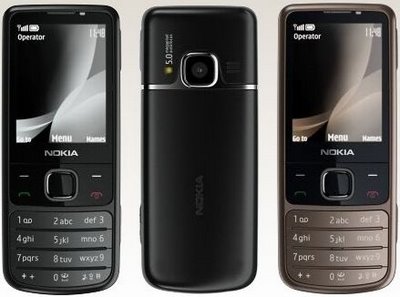 From the January press release:
Leading the new collection is the Nokia 6700 classic, which continues the legacy of one of the company's most successful products, the Nokia 6300. "The Nokia 6300 raised the bar in terms of design and premium materials when it arrived in 2006 and topped all sales records for a mid-range mobile phone. The Nokia 6700 moves that bar even higher with a beautiful, slim design and perfectly balanced practicality," said Soren Petersen, Senior Vice President, Nokia. "Our new arrival shares the same 'DNA' as its predecessor and we believe that it will be one of our best selling devices in 2009," continued Petersen.
The Nokia 6700 combines smooth surfaces, rich materials and precisely crafted parts with a full metal keymat which completes the premium finish. Improving on all areas of its forerunner, the Nokia 6700 comes with a 5 megapixel camera, assisted GPS navigation with Nokia Maps, and high speed data access meaning sharing images or video is faster and easier than ever. At an estimated retail price of EUR 235, before taxes and subsidies, the Nokia 6700 addresses the original Nokia 6300 customer need and aspiration level perfectly.
MR review here:
http://www.mobile-review.com/review/nokia-6700-en.shtml
Quote:
Impressions
One of the technologies we overlooked in this review is UNC - Uplink Noise Cancellation. Up until this moment Nokia have been using Voice Clarity feat that improved your voice quality, but it's more of an equalizer than anything else. The idea behind UNC stems from mobile accessories and Bluetooth headsets in particular - the 6700's casing houses two microphones, and each one analyzes your current environment, trying to separate your voice from background noises. So, in theory it should provide superior call quality, compared to phones armed with only one microphone. And it does, although not always. By the way, the Nokia 6700 is not the first phone to employ this feat - the Nokia 3600 Slide and 7510 Supernova had it as well, nevertheless Nokia never touted it in thouse phones.
The 6700's bundled motion sensor allows the user to mute an incoming call or bring up the clock on the standby screenby tapping on the casing - all in all, these are the features you'd expect to find in a top-range Nokia-branded phone.
We never encountered any problems with the 6700's reception quality either, plus its vibro alert was more than satisfactory.
The 6700 offers an uncompromised combination of functionality, imaging and music departments, as well as price and materials - it'll be very difficult to find a worthy rival for it as far as candbybar-shaped phones go. On balance, the Nokia 6700 is a well-rounded phone, and with its 235 Euro price tag (before taxes) that it'll put on some time in May, it's going to be one of the best ways to go out there.
According to carphonewarehouse.com, the 6700 classic is due April. I believe that when I see it! I can't wait for this phone though